Here is a visual reference to the official part list and count in the LEGO MINDSTORMS 51515 Robot Inventor set. The set comes with a paper booklet containing the part list, but the jpg files in this article provide a nice digital reference for your laptop or iPad screen. I made two overviews, one with every part listed and the number of them in the set. Another with every part rendered, showing as many parts as there are in the set.
Part count in the 51515 Robot Inventor set
This image has an exact part count of every included piece in the new MINDSTORMS set. I added beam and axle lengths for your convenience.
New and notable are the large frames. There are two 11 by 15 frames and two 7 by 11 frames. The LEGO Duplo ball is an eye-catcher too. The set includes two Ninjago arrow shooters for making your robots more menacing. Apart from the Ninjago parts there are many other studded parts in the set. Much more than in the MINDSTORMS EV3 set. Examples of these studded parts are the antennas, the two dishes and all the smooth tiles.
The set includes many wheels. There are even six 56mm solid rubber wheels! Those wheels were first seen in the SPIKE Prime set and make great robot wheels. The smaller 18mm wheels with 23mm rubber tires are also the same as the SPIKE Prime set.
The number of gears is rather limited. There is only one 36 tooth gear. On the other hand, the set includes no less than three turntables, two small ones and a large one.
Volume display of parts in the 51515 set
This overview gives you a feel of all parts included. The parts are sorted by function.
CSV File of the 51515 part list
You can also download this CSV and XML file with a part list. They are both in the zip file below. The CSV file is human readable and usable on Bricklink. Use the XML file to create a custom palette with quantities and inside Bricklink Studio.
To add a custom palette with quantities in Studio, choose 'config…' in the palette menu en then choose 'import a wanted list xml w/ quantity'. There is a bug that doesn't show the number of rubber 2L parts with axle holes correctly. Another thing that adds complexity is that not all 51515 parts are in the official Bricklink Studio library yet. You need to hunt for custom parts downloads in the Robotmak3rs 51515 group or the Studio Designers group on Facebook.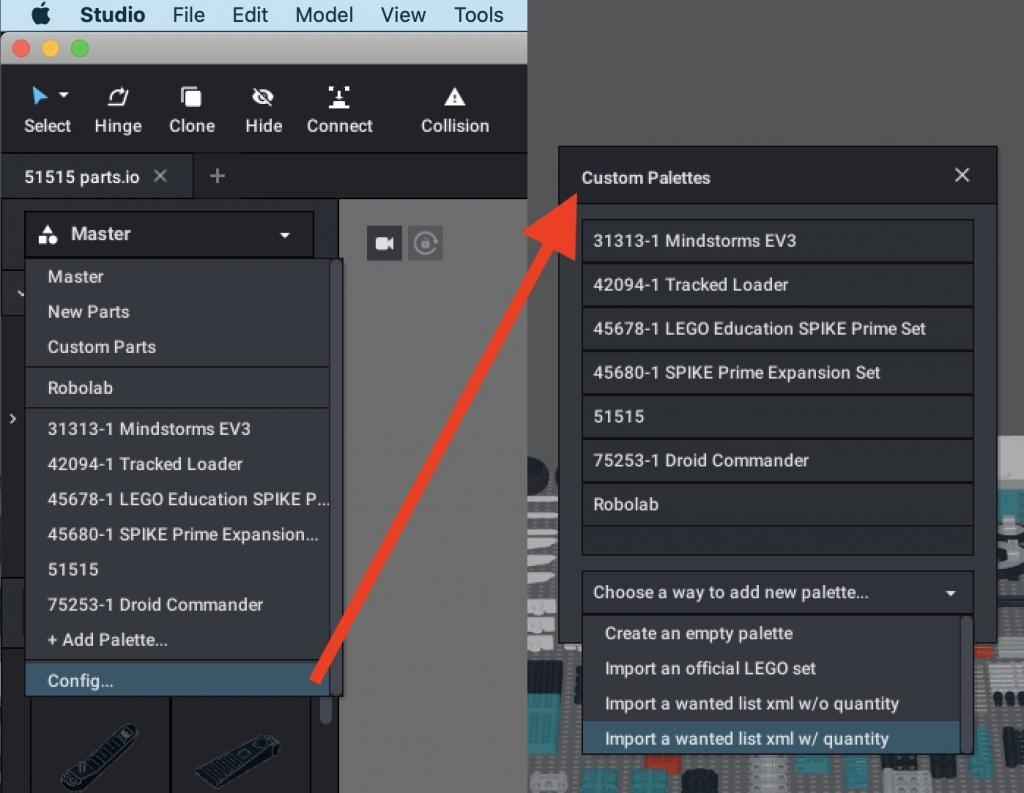 Unboxing video of the Robot Inventor set
Be sure to check my full unboxing video of the new MINDSTORMS 51515 set on YouTube.